Another beautiful spring weekend and a stimulating trip to the Hudson Valley to one of my favorite destinations – DIA:Beacon.
Modern art is my other big love and it was exciting to see the extensive Carl Andre retrospective getting installed before its opening on May 5th.
I also love sitting in the garden and listening to the Bird Calls audio work. Everything is slowly awakening again and the cherry and apple trees have started to blossom.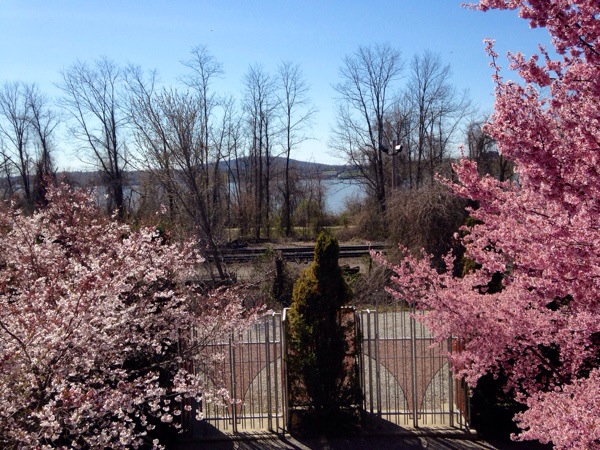 Inspired by the freshness of the season, here is a beautiful way to enjoy those ramps a little bit longer. And the edible chive flowers are not wholly necessary but they are so just pretty, aren't they?
Tip: If you're buying ramps at the market, wrap them in a paper towel and seal in a ziploc bag so that they stay fresh in the fridge.
Chilled green pea and ramp soup
You'll need:
3 cups shelled fresh peas or 1 package frozen peas, thawed
1/4 cup loosely packed ramp leaves + ramp stems, chopped
1 cup vegetable stock (*you could use more, if you would prefer a thinner soup*)
1 t freshly squeezed lemon juice
1 T olive oil
salt, pepper
crumbled goat cheese
chive flowers (optional)
1. Heat olive oil in a deep pan, add ramp stems, salt and pepper and sauté lightly.
2. Add vegetable stock and bring to a boil. Add the peas and bring back up to boil, then take off of heat right away.
3. Add ramp leaves and stir to combine. Let cool slightly, then add lemon juice and process (in batches, if necessary) until smooth in a food processor or blender.
4. Taste for seasoning. Cool at room temperature and then refrigerate until chilled.
5. Before serving, stir through with crumbled goat cheese and top with chive flowers.