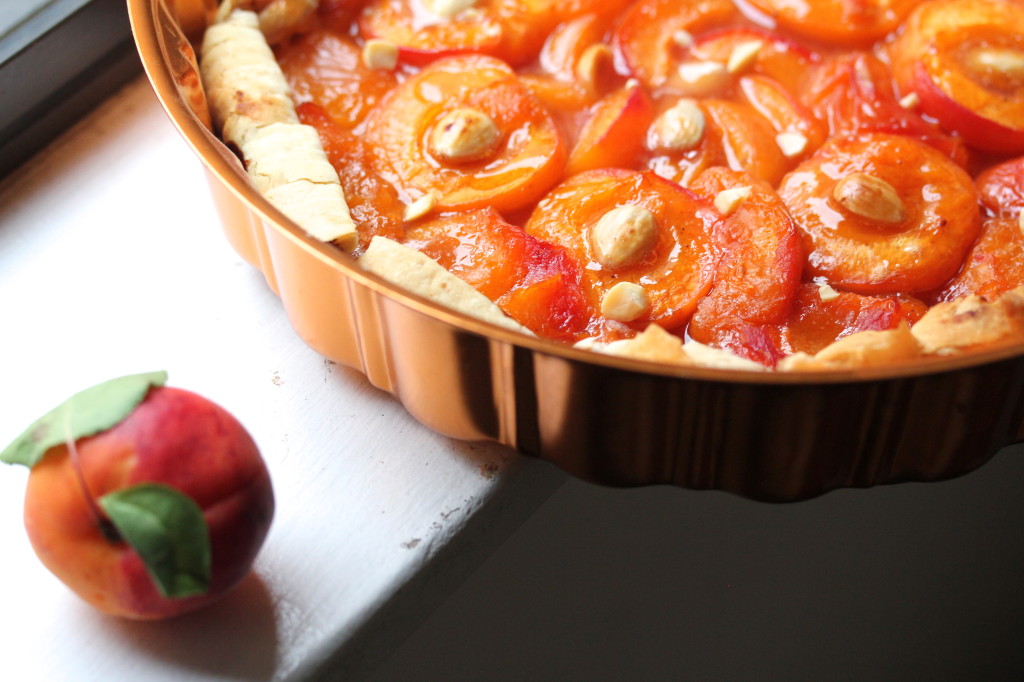 With the recent homemade vs store-bought debate in French restaurant legislation, puff pastry falls on the side of quality items that restaurants are generally allowed not to produce in-house.
At home? It's your own call. Puff pastry is time consuming and requires a certain finesse and, personally, I don't see anything wrong with having some waiting for you in the freezer.
It certainly makes baking this tart much faster. Just roll out the pastry thinly and flour lightly.
I love apricots and this tart is all easy sunshine and sunny indulgences. Bon appétit!
Apricot almond tart
You'll need:
one sheet puff pastry
1 egg (for egg wash)
10-12 ripe apricots, depending on size
1/4 cup vanilla sugar
2 T honey
1/3 cup water
a handful (or more) blanched whole almonds
1. Roll out the pastry thinly, flour lightly, prick lightly with a fork all over, and drape into whatever cake pan or baking dish you're using. Refrigerate while making the filling.
2. Wash and pit apricots, cut them in half (or smaller, depending on size) and divide up in half – keep half fresh and cook the rest.
3. Heat up a deep pan, place half of the apricots face down in the pan with 1/3 cup water. Sprinkle with vanilla sugar and honey.
Cook until the apricots are tender and syrupy, but not falling apart.
4. Preheat oven to 365F.  Take the dough out of the fridge. Layer fresh apricots "face" up in the middle of the tart. Place an almond inside each half. Then, place the cooked apricots all around in a single layer. Top with most of the syrup, reserving about a T for glazing later.
5. Crimp the edges of the tart and brush with egg wash. Bake until golden brown and puffy.
Let cool slightly, then glaze with remaining syrup – this will give the tart a nice sheen.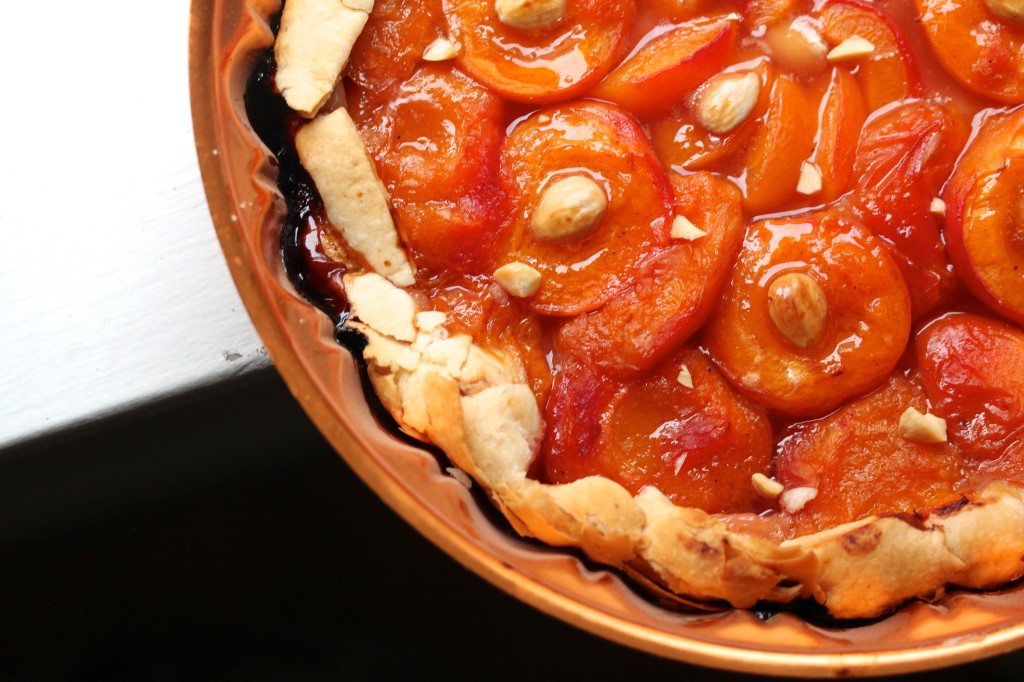 Top with a few more almonds, if desired, and serve on its own or with a lot of fresh whipped cream or a scoop of greek yogurt.